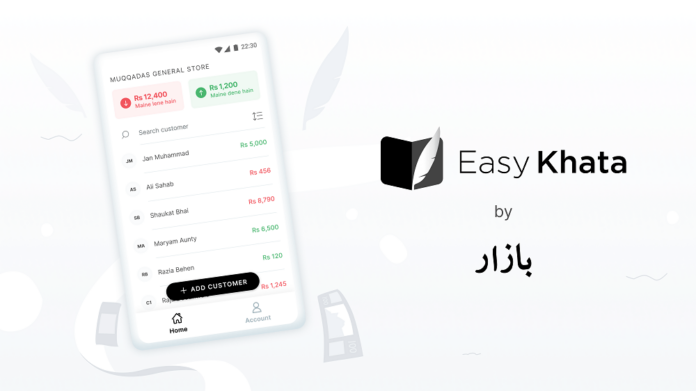 The popular Karachi-based B2B Ecommerce marketplace Bazaar has launched their fully digital ledger app, 'Easy Khata' which will allow retailers to seamlessly manage their accounting and ledger. The app was already debuted its first launch over a month ago having more than 100k active merchants registered across 400 cities in Pakistan. It didn't take much time to go viral right after launching Easy Khata in the app stores making it one of the top trending apps on Google Play.
Bazaar is focused on is the eCommerce application that empowers staple retailers to secure stock for their stores and that's not all. Begun not exactly a year prior, the startup has already raised about $8M as of now, incorporating $6.5 million making it straight up Pakistan's biggest seed round of the time while popularising the app along the way. It said that it is now working with the absolute biggest FMCG organizations in the country. They've been at it while serving a great many retailers in Karach until now.
"Traditional retail in Pakistan still has not seen technology play a major role in the value chain. However, with the launch of Bazaar, we saw astonishing digital adoption of our commerce app, which reinforced our belief to introduce even more digital products including accounting, payments, lending, and commerce as part of one digital stack," said the Co-Founder of Bazaar, Saad Jangda.
The app not only comes with a seamless UI, but it also comes with full online synchronization enabled database and backup features. Other notable features include the generation of PDF reports, recording transactions, daily SMS reminders to customers, and giving proper reports on their dues.
The Karachi-settled startup isn't the only company in Pakistan to have dispatched a digital ledger application for retailers and there certainly are competitions. The idea that was spearheaded by India's Khatabook was brought to Pakistan by any semblance of  CreditBook, Udhaar andDigiKhata. Each of the three has been in the space path before Bazaar yet they've assembled organizations around these E-commerce mobile apps for convenience. And will conceivably present fintech contributions later on after the startup of course.
Although one good thing Bazaar did was follow another different path to get there and the credit certainly goes to them. They pretty much listened to the feedbacks of the retailers after launching their eCommerce marketplace. And after the follow-up, they decided to release the digital ledger app which makes them the only platform that provides both of these services.
"We believe that speed has always been our key strength as we strive to serve this massive space. With a 40 people strong and growing product, engineering, and design team, we are accelerating on our journey to digitize and serve small businesses across Pakistan through one single offering," stated a spokesperson of Easy Khata.
Easy Khata will also serve Bazaar as a free channel along with its 100k regular and active users. And by doing that, there will be new customers since it's already a popular B2B eCommerce marketplace.  The Co-founder of the startup also stated," ///////////With Easy Khata, we have already developed a large user base in most cities and a strong national brand for the local retail segment."