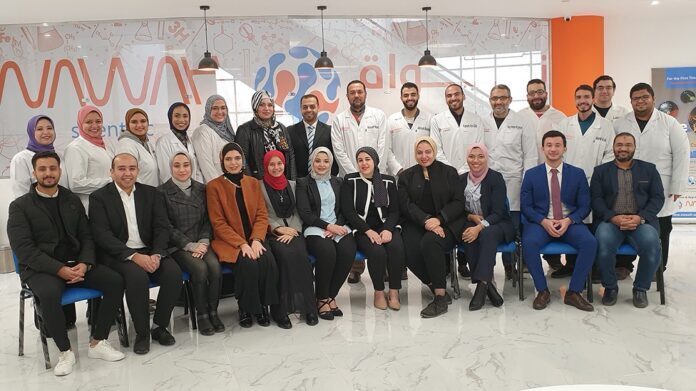 The popular fastest-growing science venture from Egypt, Nawah Scientific has announced its official launch in Jordan. Although this isn't the first time Nawah is doing business in Jordan since their collaboration with Jordanian universities and scientists has been already established back in 2018 via Nawah's hub in Cairo.
"With a very vibrant and strong scientific ecosystem, Jordan was the must-go option for Nawah. Despite the relatively smaller size of Jordan to other MENA countries, Jordanian scientists are way ahead of others on so many fronts, and Jordanian universities are the cornerstone behind this significant impact. Yet, there is much more to achieve and Nawah is coming to Jordan to help make this happen," commented Nawah's founder Dr. Omar Sakr.
Nawah has a clear mission called "Empower Science in MENA & Africa" and with it, they also introduced their brand-new business model in the region. It has helped to bring a digital era to the capable hands of scientists and that's not all.
"Scientists' role is to think, design the experiments, and interpret results, we do the rest of technical work for them at Nawah" commented Prof. Ali El-Halawany, Chief Scientific Officer at Nawah.
Nawah allows a lot of features through its online platform. It works by receiving experiment requests through their online platform while a courier collects samples of analysis. After that, the scientists from Nawah goes on continuing their tests and get the results on their online platform. Through this innovation, the platform allows scientists to perform high-quality research and their location or lab facilities aren't in the way of this research making it the most convenient. It has made Nawah expand its services while several industries are there as direct beneficiaries of Nawah services. For the last couple of years, the platform has made it into becoming one of the most important integral parts of the Pharma Industry in Egypt whale having hundreds of samples flowing for analysis, routine checks, or formulations that are needed for improvement by the Nawah pharmaceutical formulation team. Along with that, the food industry also comes second with a massive requirement for ingredient analysis and enhancing food safety as well.
Nawah's current aim is to expand its services to the chemical, agriculture, and oil industries in the next couple of years. Nawah has already announced their closing of another $1M pre-series A round with the inauguration of its new hub of labs earlier this year. The inauguration is described as "The biggest private multidisciplinary research hub in Egypt". It was also announced by Dr. Omar Sakr that Nawah is already working on a record Series A round which will be the biggest one for life science venture in the region while having decent traction from international VC funds.