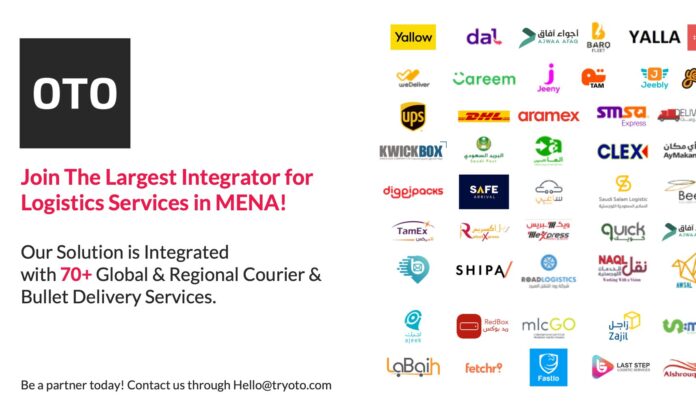 OTO, the Saudi-based Shipping management software and delivery platform that they've managed to successfully raise $3M in their latest seed funding round. The funding round was led by Middle East Venture Partners (MEVP) and Derayah Capital.
OTO was founded by CEO Mohammad Al-Razaz and CTO Furkan Uzar. And it has managed to build world-class technology to help eCommerce brands with shipping, managing, tracking, and returning their online orders with 100+ shipping carriers via a consolidated dashboard ever since its foundation back in 2019. Their purpose is to build a global shipping technology that can be used by any company no matter its size and it can be done anywhere in the eCommerce space. And it has managed to grow 300% YTD in the number of processed orders compared to 2020 and is expected to grow by 500% by the end of 2021. As of now, OTO has over 400 registered brands shipping their orders both locally and internationally that include some popular brands like Zain, SACO, The Body Shop, and many more.
OTO has gained a position nicely between the emerging eCommerce and Transport & Logistics (T&L) sectors and all of it was possible because of its hybrid integration techniques. The growth in the funding sector this year was 32% and 122% and while it's been observed, the eCommerce and T&L rand the 4th and 5tth most funded industries in 2021 as per the latest venture dashboard from August.
This KSA-based startup has been helping businesses to save time and money through their hybrid integration while offering a multi-carrier system and automating most of the processes including shipping rate comparison, label generation, tracking, returns, and reporting.  Retailers, E-commerce brands, and logistics players connect to OTO and access a carrier network all through one API and dashboard.
Co-founder and CEO Mohammad Al-Razaz highlighted the paint point behind these solutions "Moving towards E-commerce is not as easy as it sounds, since most of the online businesses are struggling from the manual operational processes in shipping, starting from using multiple carriers' dashboards to downloading excel sheets to analyze the performance of the shipping carriers. On the other hand, 57% of GCC consumers expect their online orders to be delivered within 2 – 24 hours. Indeed, 7 out of 10 of the online orders abandon their shopping cart mainly from the high shipping fees and late delivery times. We are here to solve this problem."
"If Pizza can be ordered, prepared, backed, packed, and delivered to your door in less than 45 mins, then why does your online ordered shirt take 4 – 5 days to be delivered?" asked Al-Razaz. "Our technology enables Ecommerce Stores, OmniChannel Retailers, Marketplaces and Fulfillment Centers to enjoy an Amazon-like experience by automating the operational processes, improving the delivery times, and getting access to discounted shipping fees. In less than 5 minutes, our customers can connect their E-commerce platform to their physical store/warehouses to a pool of shipping carriers."
"Saudi Arabia has always played a key role in logistics, being located amidst three continents on the trade routes linking Asia and Europe. Therefore, we leveraged the expertise of our team to build advanced solutions that will overcome the local & global E-commerce fulfillment challenges" said Al-Razaz.
In light of this launch investment, MEVP partner, Riyad Abou Jaoudeh, concluded "With e-commerce in MENA growing 20%+ year on year and rising expectations of digitally-native shoppers, many omnichannel and e-commerce retailers are unable to fulfill their orders efficiently to meet those expectations. Happy customers have helped us identify OTO as a key e-commerce enabler that automates order fulfillment to reduce delivery time and costs. We are excited to join Mohamad, Furkan, and the OTO heroes as they build a scalable and localized SaaS platform. We are happy to partner with Derayah Capital to support OTO in strategic, long-term investment in their product and technology."