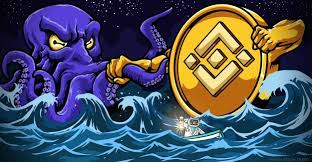 With the exponential growth of cryptocurrencies in MENA, both industry heavyweights Binance and Kraken have gained virtual asset trading licenses for the MENA region via Abu Dhabi Global Market (ADGM) allowing both trading firms license to operate as broker-dealer of virtual assets in the region.
Binance has big plans for the region with additional licenses gained from Dubai Virtual Asset License from the Virtual Asset Regulatory Authority (VARA) as well as CBB license from the central bank of Bahrain.
UAE plans to be the regional / global hub of cryptocurrency exchanges will only benefit from the exposure to such trusted exchanges, with local competition already present Rain and coinMENA (in Bahrain) and BitOasis in Dubai, local competition will be rife to gain market share in Middle East and North Africa.
Kraken is offering local currency exchange in AED for the emirati market, a first by industry heavyweight crypto trading companies.