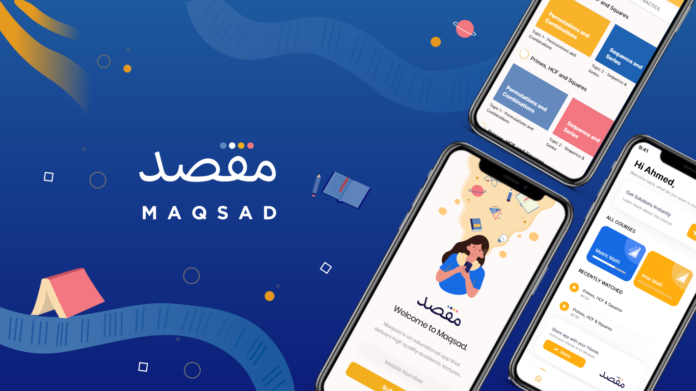 Maqsad, the popular Karachi-based Edtech platform on successfully managing to raise about $2.1M in a Pre-Seed round. This particular pre-seed round was led by Indus Valley Capital. The round was also joined by Alter Global, Fatime Gobi Ventures along with several founders of different startups both in Pakistan and the Middle East.
Maqsad was founded by childhood friends Rooshan Aziz and Taha Ahmed earlier this year. And ever since its foundation amidst the pandemic, it has been building a mobile-only platform providing after-school academics. The service is open for more than 100M Pakistani students and that's not even all.
The team has already managed to run two separate pilots earlier this year after the foundation of the platform and they have an aim to launch the platform later this year. The platform will feature both localized English and Urdu content allowing all students from the region to learn at their own pace. The contents are video-based and they also have features for testing the knowledge the students may acquire through quizzes along with some other highlighted features on the app. All of the content is created by teachers and they are produced in-house.
Rooshan who was previously a banker at BNP Paribas in London said, "We believe everyone has a purpose. Maqsad's mission is to enable Pakistani students to realize this purpose; whether you are a student from an urban center, such as Lahore, or from a remote village in Sindh: Maqsad believes in equal opportunity for all. With promising initial traction and user feedback, the potential to digitize the education sector became very clear."
Commenting on the occasion, Taha said, "It's about more than just getting students to pass their exams. We want to start a revolution in the way Pakistani students learn, moving beyond rote memorization to a place of real comprehension." He was previously a strategy consultant at LEK.
Aatif Awan, the founder and Managing Partner of Indus Valley Capital said "We've been looking to invest in a startup transforming education in Pakistan since Indus Valley's inception. Maqsad founders' deep understanding of the problem, unique approach to solving it, and passion for impact persuaded us quickly that this was the team to partner with. We are thrilled about helping Maqsad become the platform for Pakistan's youth to realize its potential."
Ali Mukhtar, General Partner of Fatima Gobi Ventures, said, "Pakistan's edtech opportunity is one of the largest in the world and we are excited to back Maqsad in delivering tech-powered education that levels access, quality, and cost across Pakistan's youth and creates lasting social change."