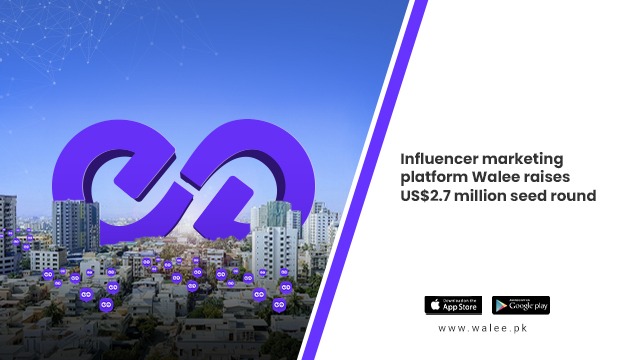 Walee, the popular influencer marketing platform from Islamabad has managed to raise about $2.7M in a seed funding round and that's not all. The round was from a Pakistani communications company Z2C and they are strictly into public relations, advertising, commerce along with technological advancements as well. However he valuation was not disclosed in this matter. But it was confirmed by Z2C that they have acquired a minority stake in the company.
This marketing platform was founded by Muhammad Ahsan Tahir back in 2019 and ever since then, it has been helping media agencies and brands to give access to proper connections for influencers in order to execute online campaigns and that's not all. The website claims to have over 50k influencers with combined followers that have a count of over 100M where the influencers are also mixed with micro-influencers. The website also claims to have more than 5k brands under their marketplace up until now.
The platform helps the company in many ways through influencers. It allows the advantage for the brands to engage influencers to actively promote their products along with the services they provide at the same time. The influencers use several social media platforms to promote the products and services including social media giants Facebook, Instagram, and Twitter. The startup also allows these various influencers to work with the partner brands for selling the products to the followers. And they obviously get their fair share of cuts on every successful sale they make along the way. There are other advantages for creators on the platform as well and it really is something better for them. The creators on the platform can also participate by showing interest in any campaign from different brands on the same platform. And by doing that, they can also provide executions and deliverables. They have the opportunity to track their earnings from all the campaigns they participate in on the platform. And of course, they can withdraw the money from several channels they might prefer.
The platform also has a built-in advanced tool on social media for helping other brands to monitor people's interest in different products and it helps the brands get a proper analysis right on the social media platforms making it more convenient for the brands to approach its target audience. Z2C owns a media agency named Bran-child Communication that has recently signed a partnership agreement with the platform and their main goal is to distribute the tool to different brands across Pakistan.
Muhammad Ahsan Tahir, co-founder, and CEO of Walee commenting on the occasion said, "Since 2019, advertisers and agencies have turned to Walee's ecosystem to advance influencer marketing campaigns and utilize social listening tools. This equity financing from Z2C comes as Walee scales to meet strong regional demand pertaining to influencer search, campaign management, and measurement. We offer feature-rich enterprise solutions in the region that offer sentiment and semantic analysis in multiple regional languages including Arabic for social and digital media content and will serve enterprise customers through five offices."
Fatima Hyder, Group Chief Strategy Officer at Z2C, said, "Walee's data-driven content analysis and influencer ecosystem approach is a paradigm change for the media and advertising industry. Given our ongoing investments across OTT, eCommerce, and eSports platforms, the inclusion of Walee fits perfectly into our vertically integrated business strategy. We understand, better than most, how challenging it is to build a business from scratch and to scale it amidst the pandemic."
With the fresh funds, Walee plans to expand their platform to the Middle East and it'll also help accelerate their startup and product development.